Training in the Personal Kiatsu® School
Kiatsu Training in the Personal Kiatsu School is a dynamic approach to using the power of the human mind, body and spirit. We learn and practice relaxation, concentration, and posture both in our daily lives and as we touch to stimulate natural healing.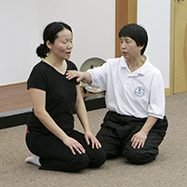 Basic Program
Students enroll in a formal course of study lasting 30 months. Students learn specific tools to improve and maintain their health and well-being. These include:

The Four Basic Principles of Mind and Body Coordination - fundamental techniques to get mind and body working together in a positive, integrated way.
Ki Meditations - easy to learn, and proven to strengthen your mental and physical abilities.
Ki Breathing Method - use this tool to replenish energy when ill, fatigued or stressed. It is both a deep breathing method and a meditation. Ki breathing stimulates the immune system and lowers blood pressure among other health benefits.
Kiatsu - sending Ki through touch with a strong flow of energy to help the body relax and stimulate natural healing.
Ki Health Exercises - relaxation and natural stretching in movement, and instruction in moving with grace and natural rhythm.


The core of the instruction is presented at weekend-long seminars held quarterly in Tigard, Oregon and in other locations. Students then meet once a week to review and study, in greater depth, the material presented at the latest seminar.

Students with a personal health issue will get special attention at the seminars to learn how to utilize Kiatsu to assist in managing their health.

Admission to the school requires a formal application. You may fill the application out online, print it and bring it with you.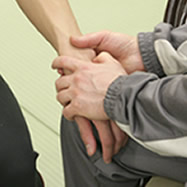 Beyond the Basic Program
Upon graduation from the Basic Program, students may continue their training to receive advanced instruction and certification.
Schedule a visit